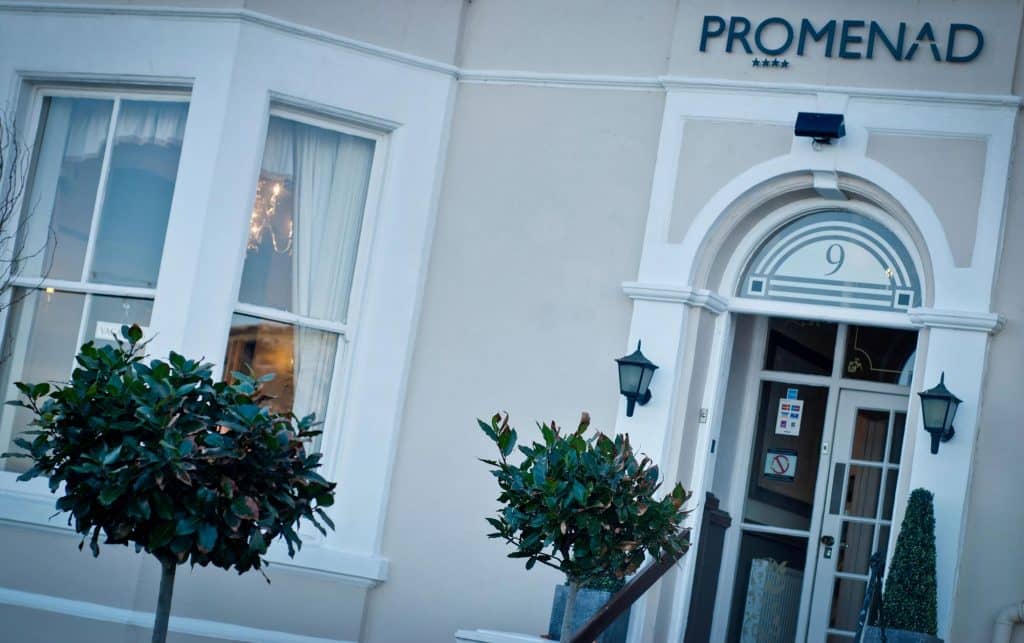 Welcome to the Promenâd in Llandudno
Centrally located with one of the best views of Llandudno Bay and the Great Orme, the Promenâd is a modern, yet stylish, Victorian building.
An independent family-run Bed & Breakfast, we pride ourselves on offering our guests a home-from-home, warm and friendly atmosphere, with comfortable rooms and a great breakfast, cooked with only the best locally sourced produce.
First time stay First time staying at this delightful B&B on the front in Llandudno. From first enquiries, David the owner most helpful and gave honest answers to our queries. On arrival David welcoming to a spotlessly clean room, over looking Llandudno bay. Bed comfortable, room warm. We were actually only guests staying, taking advantage of "special offer" but nevertheless treated with respect and welcome. Breakfast ordered night before, cooked to order in the homely dining room at chosen time. Close to amenities and ideal for attending Venue Cymre. Will definitely be staying again for future stays in Llandudno
FANTASTIC To put this B&B into a single word I would say "fantastic"! I stayed for just the one night, but what a great night it was. The hosts, David & Clare are so warm and welcoming, greeting you with a lovely smile everytime you see them. The location of the B&B is perfect, right on the sea front. I had a fantastic room (7) with a sea view, and the bed was so comfortable. Breakfast was served and a brilliant one it was, full English cooked to perfection!I stayed for business, but I will definitely be booking again for a mini break with my wife.
Fantastic weekend stay at the Promenad! My friend and I have stayed here twice now and we absolutely love staying here. Perfect location for sightseeing and very close to train station if you don't drive. Claire and David are amazing hosts, so friendly and make you feel at home. Our room was lovely and had a great sea view and views of the Orme. They offer a lovely cooked breakfast with a great selection to choose from. I would definitely recommend staying here and will be back again for sure! 🙂
TheConways2014
2023-02-15
Perfect 2 night stay! Just had a wonderful stay at the Promenad Hotel, comfy beds , wonderful sea view and exceptional and friendly hosts. All the facilities you would need….Managed to get a parking spot on the front and the hosts even provided a free parking pass! Would highly recommend.
Vincent Kinsey
2023-02-13
Great B&B Second lovely visit to this great B&B. David and Clare are brilliant hosts and nothing is too much trouble for them. The rooms are clean and ample size for a seaside trip. The breakfast is top quality with enough choice to vary things if you stop a few days. Goid value for money in a busy town. Nice to have a new regular bolthole.
Excellent for all the family - we will 100% be back!! From the moment you walk in you feel a warm welcome from David and Claire. They are perfect hosts and happy to help you plan your stay. The breakfast was delicious with lots of choice including vegetarian options. The fresh fruit pots were also very popular especially with the children. We will 100% be back!!
No faults at all. Everything was brilliant, from having to adjust my check in time to catering for my lactose intolerant daughter to the view (Room 3 twin, sea view we stayed in) to the knowledge the owners had of nearby recommendations, great location, really impressed all in all 🙌🏴󠁧󠁢󠁷󠁬󠁳󠁿💯
Real Gem of B & B What a gem of a B & B much superior to many hotels we have stayed in, a real find. Received a warm welcome from the owner David when we knocked on his door Saturday lunchtime looking for accommodation, after our booked rooms elsewhere were not available when we arrived.He showed us the last room available and gave a mini tour of facilities, including dining area and resident's lounge. Really impressed with the quality of the room and the whole place, deciding to stay was any easy decision.The room, complete with mountain views was excellent, a good size, comfy beds and modern en-suite bathroom. The décor and furnishing of the whole establishment is of high quality and blends well with period building. Breakfast, cooked by Claire, David's wife, was a triumph, usual choice of cereal etc and a super cooked breakfast.Thoroughly enjoyed our stay, we certainly will return and recommend to friends and family who visit Llandudno regularly.
Lovely stay Had a weekend at the Promenâd. We received a warm and friendly welcome from David and Claire which made us feel right at home. The room was lovely and clean with a very comfortable bed and a gorgeous view.Breakfast was one of the best we've had in a hotel or b&bDavid had loads of local information and ideas for things to do and places to eat which really enhanced our stay. Will definitely be going backLaura and Paul Roberts
Lovely clean and comfortable B&B. We were very pleased with this accommodation. It is clean and comfortable. The owners were very pleasant and helpful. They cook a lovely breakfast from a good choice and for all appetites and needs. The staff will enter your room each day (unless you say otherwise) to make the bed/s, refresh tea & coffee, and freshen the room. The premises is on the seafront and only a short walk from the town center. The shopping area is quite big with a good choice of coffee shops, restaurants, pubs, clothes shops, etc. It was nice to see that they were all open too. The Promenad and Llandudno are highly recommended.